Products&
Service

Tubing spool


General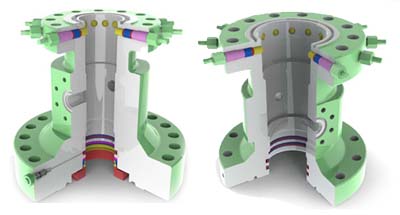 MSP tubing spool is a double 45°shoulder design that is used for all types of well completions which is a straight-bore design, and provide an alignment pin for an easy installation of matched tubing hanger.
MSP tubing spool is perfectly compatible with all MSP serial tubing hanger. Several types of bottom preparation for secondary seal could be provided according to customer's requirement.
Design Features:
Straight-bore design provides a reduction of the bowl damage while drilling and prevents test plugs, wear bushing and casing hanger from wedging.
Outlets on the body are available for either studded or pipe line, and studded outlets have an option of valve removal threads.
Gate valve on the wing side could be replaced under well pressure by means of the availability of Valve Removal Thread.
A test port is available at the bottom.
Lockdown screws would assist to prevent tubing hanger moving.
The bottom of TD casing spool is available for various pack-off preparations including but not limited to: TD series tubing spool is perfectly compatible with the TD series tubing hanger.
Tubing Spool Data Chart